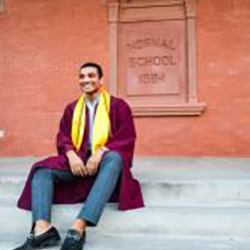 Ajay graduated in the Spring 2020 semester with honors and a degree in Biological Sciences. He wanted to come to ASU after seeing all of the amazing research and extracurricular opportunities our school has to offer.
While at ASU, Ajay worked in 3 research labs focused on human sensory perception, tissue regeneration, and large-scale innovation. A majority of his time was spent in the Luminosity Lab focused on healthcare development and is currently working on a machine learning algorithm to detect GBM in pediatric patients through a contract with PCH. Aside from research, Ajay spent a majority of his time in undergrad scribing, volunteering, and making sure to spend time in extracurricular activities such as Greek life and clubs.
Ajay will be attending the University of Arizona College of Medicine - Phoenix (UACOMP) this fall to begin his medical education. He plans to utilize his skills to advance medical technology development and address international healthcare disparities.