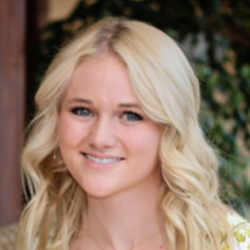 Allison Lewis is a Medical Microbiology major and minoring in Family and Human Development. She chose ASU for its amazing honors college, Barrett; Allison loved the idea of being part of a small environment within a large university. She has always been interested in medicine, but when she began college, she was uncertain what specific career path she wanted to pursue. During sophomore year, Allison shadowed a family friend who is a physician assistant (PA) that works in a trauma center. After that experience, she knew that she wanted to pursue being a PA.
While at ASU, Allison joined the pre-PA club and worked as a medical assistant at a dermatology office. The pre-PA club offers a lot of insight on the profession, because physician assistants come to the meetings and speak about their experiences. Working as a medical assistant provided Allison with patient care experience, as well as charting experience and learning how a medical office runs. Working alongside physician assistants on a daily basis solidified her decision on going to PA school.
Allison's biggest piece of advice for other students is to seek out the amazing opportunities that ASU provides. She found her job as a medical assistant in the Barrett Honors Digest and found several volunteering opportunities through ASU. There are so many opportunities out there, sometimes it just takes a little bit of effort to find them.
She will be attending Midwestern University's PA program in Glendale, Arizona beginning the end of May 2020.