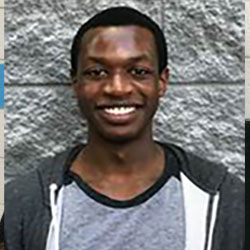 Henry Chinyere is a Kinesiology major who was drawn to ASU for the immense amount of opportunities that came with studying at one of the largest universities in the country. His interest in science and commitment to serving underserved communities ultimately drove him into the field of medicine.
While at Arizona State University, Henry completed an internship at Sonoran Orthopedic Trauma Surgeons and is now working there as a medical scribe. He volunteered locally and abroad with various student organizations including AZ-Global Health Project, and was also apart of the Exercise for Adults with Down Syndrome research program. 
Henry's advice for current pre-med students? "Identify what you are passionate about early on in college and let that dictate the clubs you become apart of and the extracurricular activities you seek out. Doing this will keep you motivated on your pre-med journey and will serve as a reminder of why you hope to one day become a physician." 
Henry has been accepted to 2 medical schools and will start this upcoming Fall.