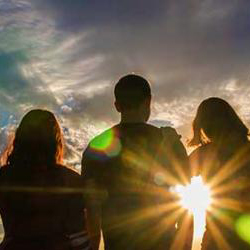 Lauren, a biological sciences major with a concentration in biology and society, says the best part about ASU is all of the people who are willing to help you. She has had amazing professors who are willing to go out of their way to answer questions, talk to her and even write recommendations. Her pre-health advisor is always happy to answer her questions and has given great advice throughout the medical school application process.
While at ASU, Lauren has worked as a medical assistant at a sports medicine clinic in Tempe, Arizona. She began as an intern and was hired after her internship was finished. This job has been a great opportunity to gain hands-on experience working with patients. She has also been involved in a research project studying congenital heart defects at St. Joseph's Hospital and Medical Center for the past year an a half investigating optimum post-operative oxygen and carbon dioxide levels for infants born with single ventricle heart deformities.
In addition, she volunteered weekly at Cardon Children's Medical Center at Banner Desert Hopsital in the infact branch of pediatric oncology. She spent time with children whose parents and relatives could not be with them in the hospital. She was also active in numerous clubs and organizations: Camp Kasem, Alpha Epsilon Delta, Just a Test, and President Barak Obama Mentoring Program.
Her advice to current pre-health students? "I would tell incoming students to explore all of the opportunities ASU has to offer. There are countless clubs, organizations and internship programs that appeal to a wide variety of interests. Through involvement in campus organizations, I have met a lot of incredible people who have changed my college experience. I would encourage new students to apply for anything they might be interested in, and to even consider starting new organizations. Being a part of ASU organizations is a great way to make a difference at school and in the community."