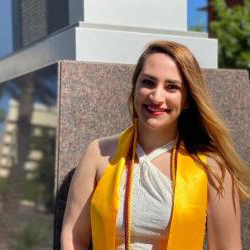 Just this past spring, Leen received her Bachelor of Science in Biological (Biomedical) Sciences as well as a minor in Chemistry from ASU. She chose to attend ASU because of the endless enriching opportunities the school offers and because she appreciates being a part of one of the largest leading research institutions.
While at ASU, Leen pursued many opportunities to get out of her comfort zone and become a better student and person. Of the main experiences that shaped her interests well were teaching, mentoring, and research. ASU offers numerous and amazing teaching and research positions to help students get involved and thrive within and outside their majors of study. Leen's best advice to all pre-health students is to chase opportunities outside their comfort zones because they lead to the most personal growth, learning, and skills development.
Leen will be attending the University of Arizona College of Medicine - Tucson in July of 2020 to start her career as a student physician. She aims to use her education to advance healthcare and to become a leader in healthcare education and development.