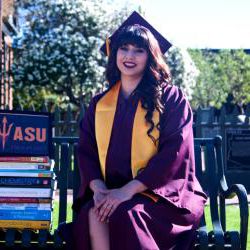 Nancy Dominguez, a nutrition (dietetics) major, was inspired to pursue a career in pharmacy after working as a pharmacy technician.
Dominguez completed three associate degrees before beginning at Arizona State University as a nutrition dietetics major. She was the first person in her family to graduate from college.
When asked what her advice to current students would be, she said: "Never underestimate what you can do. Everything is a learning experience, whether it is learning who you are and what you can handle, or learning how to think critically in class."
Dominguez started at the College of Pharmacy program at Midwestern University in June 2018.